Our Purpose is to help our customers, colleagues and communities prosper. To achieve it, we operate in a sustainable way with environmental, social and governance matters relevant to the Group at heart.
As a specialist lender, we have long been aware of our responsibilities and the positive impact we can make to society through our activities and responding to the challenges and opportunities that environmental, social and governance (ESG) matters present, has now become an integral part of the Group's strategy.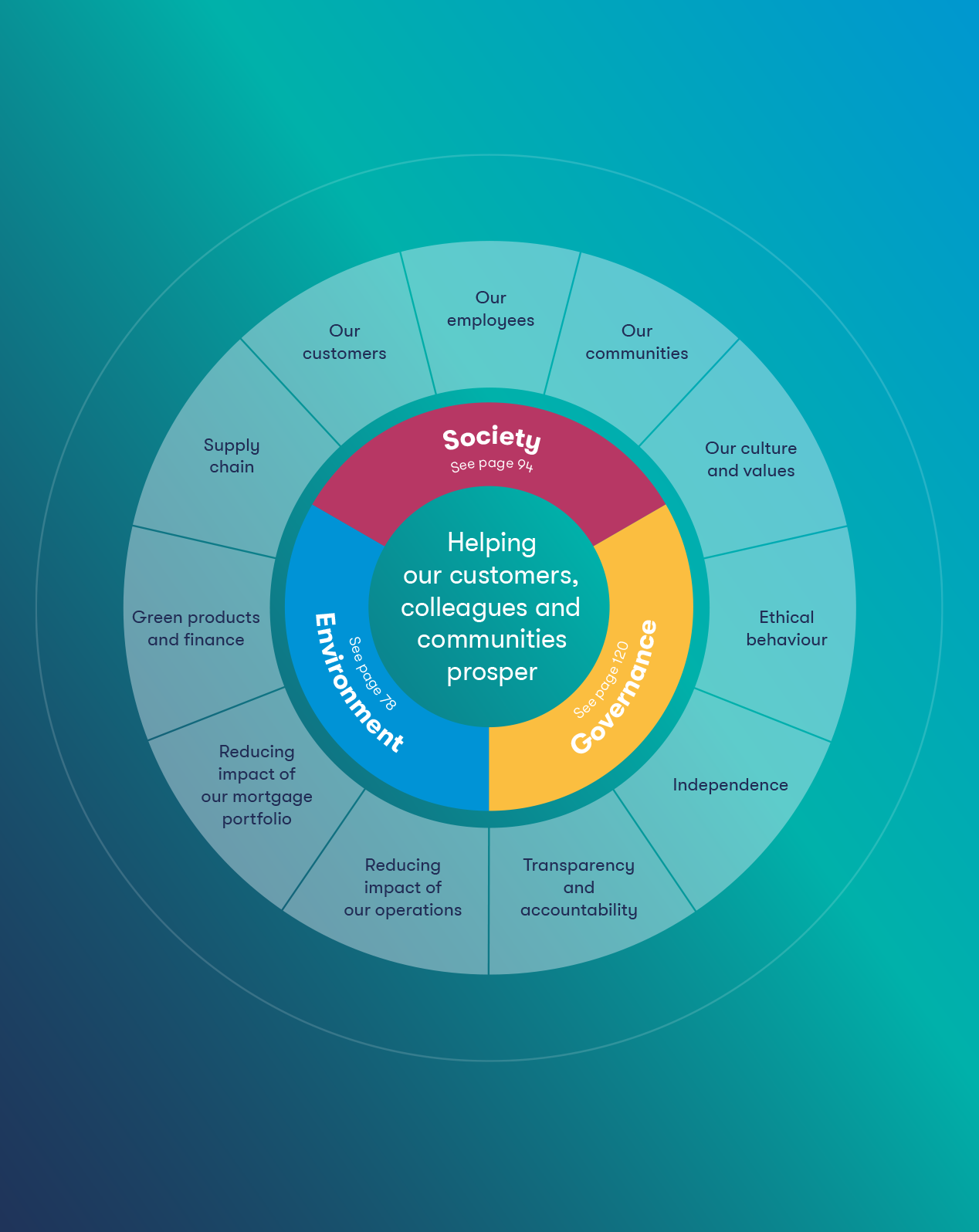 ESG has been a key consideration for the Board and the Group's management. During 2021, one of our Non-Executive Directors, Sarah Hedger, was appointed as the Group's ESG Champion. We also created a new ESG Governance structure and a dedicated ESG team who are responsible for the preparation, management and monitoring of the Group's ESG strategy and operating framework and in collaboration with cross-functional departments, its implementation and delivery.
We have embedded ESG and climate risk into our Strategic Risk Management Framework as an enterprise risk and in 2022, the Executive remuneration will be linked directly to ESG performance. Our aim is to build an agile and maturing ESG response which is relevant to the Group's specialist lending activities and which align to the Group's Purpose, Vision and Values, whilst supporting the Group's approach to long term sustainability, value creation and resilience.

Environment
Climate change is the most pressing challenge facing our planet and we are acutely aware of the threat climate change poses not just to our business, but far more importantly, the way in which we live our lives, be that our customers, colleagues, suppliers, or communities.
Following the decision to be carbon neutral1 for our operational emissions2 in 2021 and to demonstrate our continued and long-term dedication to climate change, we have joined the Net Zero Banking Alliance and committed to assist with industry efforts to achieve decarbonisation goals and to achieve net zero greenhouse gas emissions3 by 2050. We fully recognise, however, that no business can achieve net zero on their own and collaborative support from industry and policy makers will be required to achieve this goal.
During 2021, we established a baseline for the emissions associated with the properties we finance, commonly referred to as Scope 3 financed emissions, using the Partnership for Carbon Accounting Financials (PCAF) methodology. In 2022, we will publish our science-based targets for 2030, in order to reach net zero no later than 2050, aligned with the goals of the Paris Climate Accord. A robust transition plan and roadmap will be developed supported by qualitative and quantitative targets.
We realise that the biggest potential for positive impact regarding climate change is influencing the quality of UK housing stock. As such, opportunities exist for the Group to build on its experience and expertise in our chosen markets sub-segments, to provide supporting products, thought leadership, and the education and awareness our customers need in support of their decarbonisation journey.
Social responsibility
At OSB Group, we have a long tradition of looking after our customers, employees and the communities in which we operate and this approach is firmly embedded in our Purpose.
Our goal of helping our customers prosper means not only providing excellent service demonstrated in the high NPS scores we receive but also working hard to make transacting with us as easy as possible, doing our best to offer transparent products and providing assistance to vulnerable borrowers. Our Sales teams are focused on helping brokers and borrowers in even the most complex of cases. We pride ourselves in having high standards and practices that govern how we deal with our customers.
Our Vision to be recognised as the UK's number one choice specialist bank would not be possible without the talented and dedicated colleagues the Group employs. Our ambition is to continue building a diverse and inclusive culture that we are proud of and one of our accomplishments in 2021 was combining two great cultures and establishing a set of common values for OSB and CCFS colleagues.
We are immensely proud to retain, recruit and train the best talent and we will continue to provide a nurturing work environment to our nearly 1,800 strong workforce, and to encourage them to fulfil their professional and personal goals.
We have also been helping our communities in the UK and India prosper through our volunteering and
philanthropy efforts. We have always been active in the communities in which we operate and have a strong ethos of giving something back. As well as supporting our national charity partner, Campaign Against Living Miserably, we also helped more local causes, donating nearly £395k in the year.
Governance
Strong governance is fundamental to the execution of the Group's strategy and promoting the success of the Group. It forms a vital part of our ESG framework. The Group's Board recognises its responsibility for providing oversight and control, and for setting the tone on how we conduct the business, deal with our
stakeholders and fulfil our regulatory obligations.
Climate risk challenges and opportunities were one of the key considerations for the Board in the year and many initiatives were undertaken to respond to them. In 2021, the Climate Risk Committee met five times to progress the framework, targets and measurement necessary to achieve our climate-related goals. In addition, to fully align the performance of the Group, its ESG goals and Executive remuneration, environmental targets are embedded in the 2022 remuneration scorecard for the Group's CEO, CFO and the Executive Committee members.
The Board was also actively engaged in overseeing the launch of the Group's Purpose, Vision and Values, which established one Group-wide approach post the Combination with CCFS. The Group's diversity and inclusion efforts were also guided by the Board and Board members participated in the activities of the Diversity and Inclusion Working Group in the year. We are proud that the efforts to promote diversity, inclusion and equality at OSB Group were awarded a Talent Inclusion and Diversity Evaluation Award (TIDE) achieving the silver standard.
We are proud of the progress we have made on ESG but recognise that there is more to do in the future. Our purpose of helping our customers, colleagues and communities prosper, backed by the strong ESG foundations we have laid in 2021 places us well to tackle the important challenges we, and our stakeholders, face.
1 Carbon neutrality is defined as balancing operational emissions so they are equal (or less than) the emissions removed through carbon offsetting.
2 Operational footprint is defined as the Group's Scope 1, Scope 2 and Scope 3 (paper, water, waste, business travel, electricity transmission and distribution) emissions. It therefore excludes pstream and downstream emissions from our value chain.
3 Net zero is defined as reducing scope 1, 2, and 3 emissions to zero or to a residual level that is consistent with reaching net zero emissions at the global or sector level in eligible 1.5°C aligned pathways.