"In 2022, we will set science-based targets for 2030 in order to achieve net zero no later than 2050, aligned with the goals of the Paris Climate Accord." - Neil Richardson (ESG Sustainability Director)
Our 2021 TCFD disclosures

Download here
Reducing the impact of our operations
As a specialist lender, the impact from our operations is relatively low and comes predominantly from the use of electricity and gas, the procurement of goods and services and travel for business purposes. Our Environmental Policy embodies the Group's commitment to Net Zero by 2050, meeting or exceeding all relevant environmental obligations under law and regulation, and to continuously improving performance. We made progress during 2021 reducing the carbon footprint of our operational emissions against 2019 baseline by 10.2%.1
2021 was the first year that 100% of the electricity the Group procured in the UK came from renewable sources saving around 342 tonnes of CO2 emissions (tCO2e). During the year we committed to becoming carbon neutral in our operational emissions for the first time. High quality carbon offsets from Verra – Verified Carbon Standard, Gold Standard or UN Clean Development Mechanism certified programs have been used to compensate for the residual emissions of 908.8 tCO2e.

1 Operational footprint is defined as Scope 1, Scope 2 and Scope 3 (paper, water, waste, business travel, electricity transmission and distribution) emissions and excludes upstream and downstream emissions from the Group's value chain.
Reducing impact from our portfolio
A significant step forward was made in 2021 with the establishment of a baseline for our mortgage portfolios financed emissions. Financed emissions, (classified as Scope 3) are the greenhouse gas emissions associated with our loans and investments in a reporting year.
The Group has selected the Partnership for Carbon Accounting Financials (PCAF) methodology to calculate financed emissions. This method attributes a proportion of the total emissions of a property, taken from Energy Performance Certificate (EPC), to the lender based on the outstanding value of the loan versus the value at origination. An inherent limitation of this methodology is that it relies on the availability of property EPC certificates. In 2021, 76% of properties had a valid EPC certificate. Where a valid EPC certificate was not available, properties were allocated a D rating. The outcome of our initial baseline is that financed emissions account for around 247 times that of our operational emissions. We will look to improve EPC coverage to improve the accuracy of our emissions calculations over time.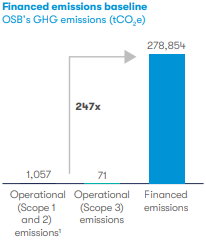 In 2021 the Group joined the United Nations – Net Zero Banking Alliance (NZBA) committing to become Net Zero by 2050. We recognise the need to work together with other institutions in the banking sector to tackle the challenges that lie ahead and to better represent the needs of our customers.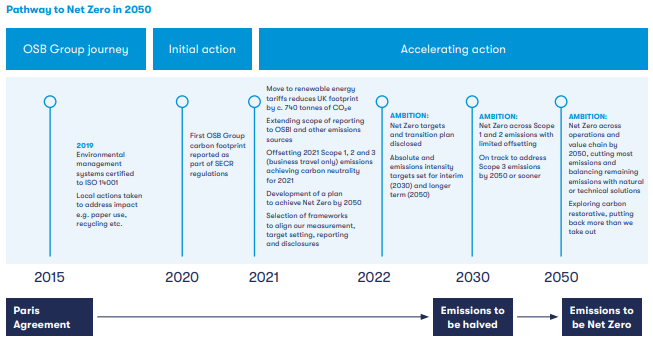 To read more about our progress in 2021 and our priorities for the future, click here.